Great Gift Ideas for Father's Day
Occasions of all kinds have been little different in 2020, "The Year of the Pandemic", and Father's Day 2020 will be no different. We all know that the best Father's Day gift is time spent together, but maybe this year you will have to celebrate on Zoom. Maybe you are thinking more than ever that you want Dad to really enjoy himself and have a great day, maybe he is being more stubborn than ever insisting he doesn't need anything. FOXY BOXY knows that finding gifts for men are always difficult, let alone thinking up what to write on a Father's Day card, so we have put together a fantastic set of gifts and message ideas to make your Dad smile, whatever he's into.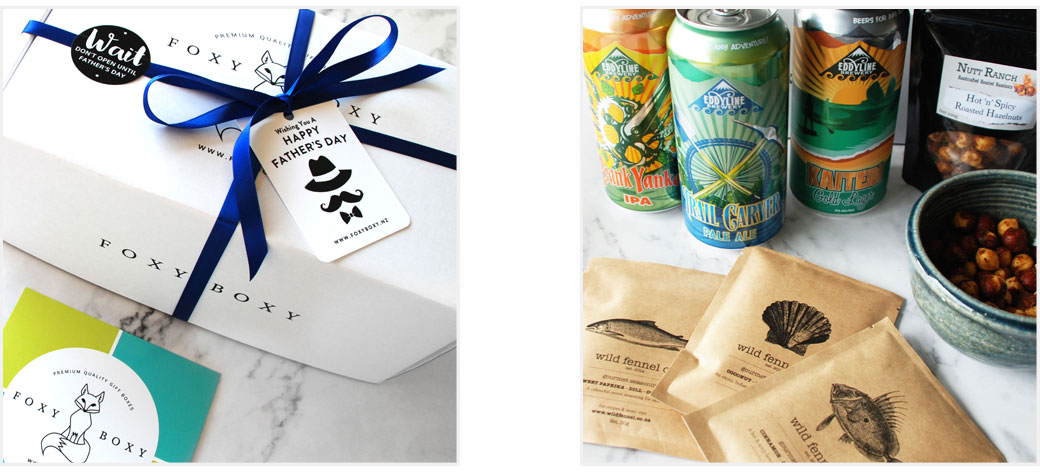 We tick the "Gift's for fishing-mad Dad's" box with the Fisherman's Edition, containing just the excuse he needs to spend the day on the water in the form of a selection of Eddyline Brewery beers, roasted nuts and the very best seasoning packs that will guarantee the catch of the day ends up tasting gourmet.
It's hard to write a message that's fishy but not also cheesy, but we like:
"This is to let you know we love you …as much as you love fishing!"
"Best Dad – oFISHally"
Our other popular beer gift boxes include: Carnivore Edition and Beer & Nibbles Hamper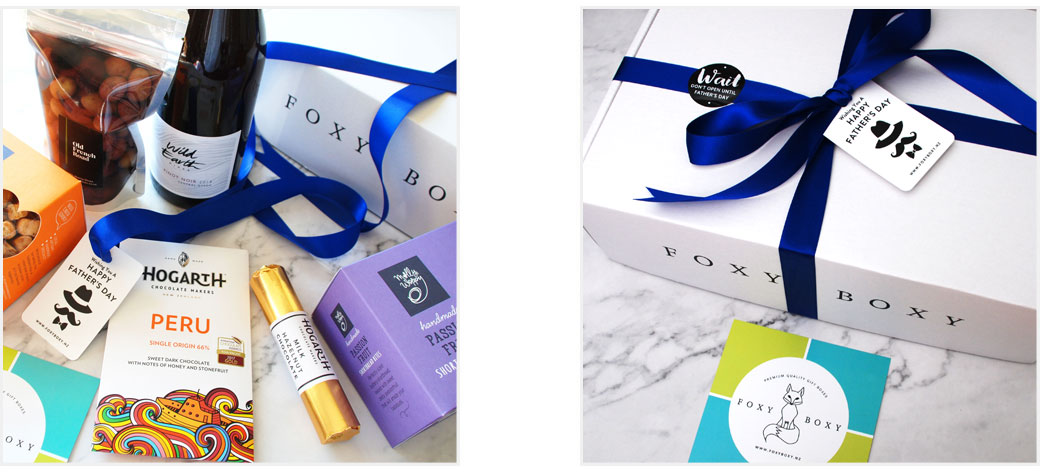 Does your Dad enjoy a Pinot? We've got it covered in fine, local style with either a Central Otago Pinot & Nibbles. The exceptional Wild Earth Pinot Noir comes with tasting notes, which Dad can sit back and read while sampling some seriously good sweet and savoury treats including Akaroa Olives and Nelson craft chocolate (oh, that chocolate…)
To go with one of this rockin hamper of fun, why not a funny message?
"I hope this Father's Day is as fun as your life was before kids."
"Dad, when I grow up, I wan to be as funny as you think you are. Happy Father's Day!"
"This Father's Day I got you all this good stuff you're too cheap to buy yourself, enjoy!"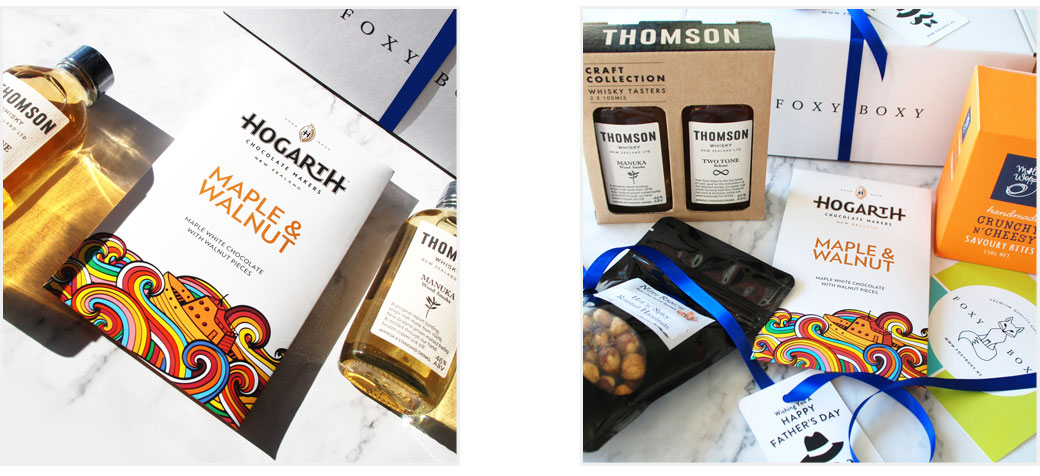 The whiskies coming out of local New Zealand distillery Thompson are so good, your Pa doesn't even have to be a devout whisky drinker – because he'll be converted! If he is a connoisseur, he will be well impressed with the quality of the two whiskies included in possibly our tastiest box, Whisky & Treats. Don't even get us started on those hazelnuts!
"Being a Dad is whisky business!"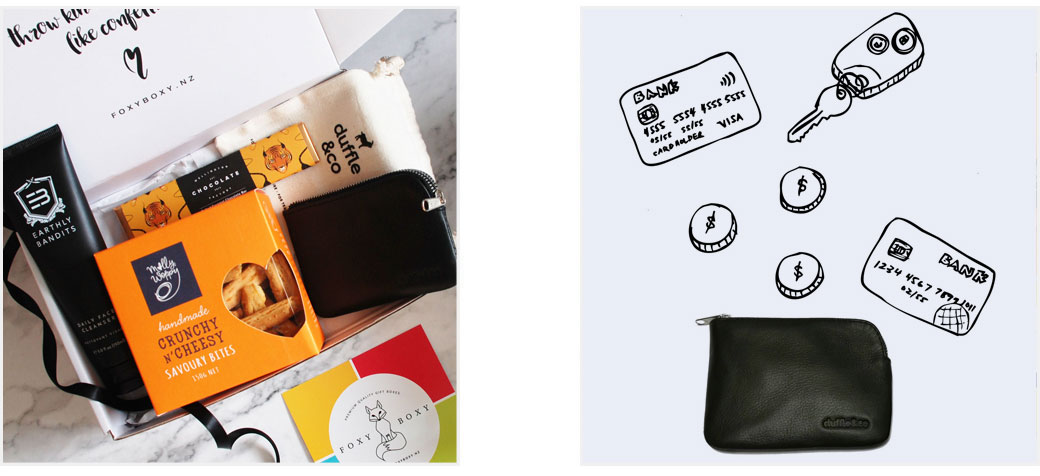 For the man who's really going places we've got Just The Ticket: the stylish, ethical, super convenient top grain leather holdall wallet from Duffle&Co NZ. The Cooke Pouch holds cards, keys, cash and earbuds, and still slips into his pocket! Awesome. Then wait till he tries the NZ made Earthly Bandits cleanser and tucks into the local artisan treats included – if quality counts for your Dad, he will truly love this gift for years to come.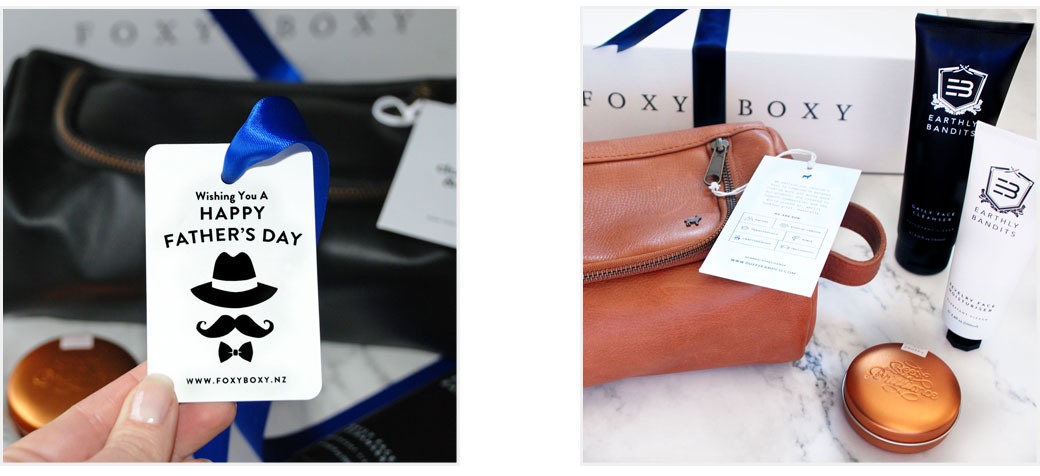 Still not enough? Up the quality stakes with Travel Well. Duffle&Co's bestselling Ralph washbag with Earthly Bandits cleanser and moisturiser as well as Bees Brilliance luxury manuka honey, fig & walnut soap in a reusable travel tin. He will be chuffed every time he travels with all this luxury kit in his luggage, all thanks to you. And if he's the kind to offset the emissions for his flights, he'll be all the happier knowing Duffle&Co will plant 5 mangrove trees in Indonesia to protect local wildlife on his behalf.
Now all that awesome swag requires a more sincere message, how about:
"Thanks for giving me the courage to explore the world, the good sense to set a direction, and the skills to navigate there."
"For always giving me the finer things in life: your care, attention and love. Happy Father's Day."
Check out the 'For Him' section of our website for even more gift ideas. If you're still struggling to write something in your card about how great your Dad is, you could always make it about you:
"Well Done, Dad. I'm awesome!"
What to buy for Father's Day and message, sorted. You're welcome.
Happy Father's Day to all the wonderful dads of New Zealand!