VALENTINE'S DAY GIFT IDEAS
February 14th is THE day to celebrate love. Do Kiwis celebrate Valentine's Day? Absolutely! Perhaps not to the same extent as in other parts of the world but here at FOXY BOXY HQ we see a large amount of orders every year for Valentine's Day. Valentine's day is a day for romantics, those madly in love, freshly in love and the unjaded :)
Our number 1 tip is to get the box delivered to their work place for an extra romantic surprise. Everyone loves to show off in front of their work colleagues!
Our team at FOXY BOXY have selected our a few of our favourite hampers to gift this Valentine's Day.
Our Top 3 Gift Ideas For The Ladies
1. Sparkling Celebration

Sparkling Celebration is enough for 2 people to enjoy or just 1 to luxuriously indulge in. Champagne and chocolates is a truly romantic gift and a fantastic gift of luxury they are guaranteed to love! Two cute bottles of Mini Moët (the world's number 1 French Champagne) and the finest award-winning craft chocolate all proudly made in New Zealand.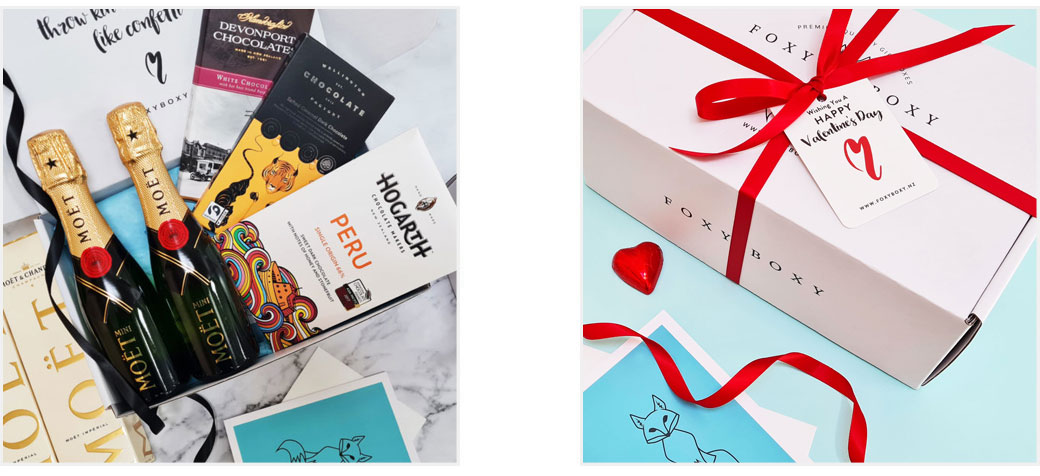 2. Hugs & Kisses

Hugs & Kisses is full of exceptional New Zealand made, quality products, presented in our custom designed gift box and delivered to their door anywhere in New Zealand. Chocolate hearts to melt in her mouth, enjoyed by the flickering light of her new heavenly scented soy candle. Delicious fudgy chocolate cookies bites and award-winning craft milk chocolate from Hogarth Chocolate Makers. So romantic xx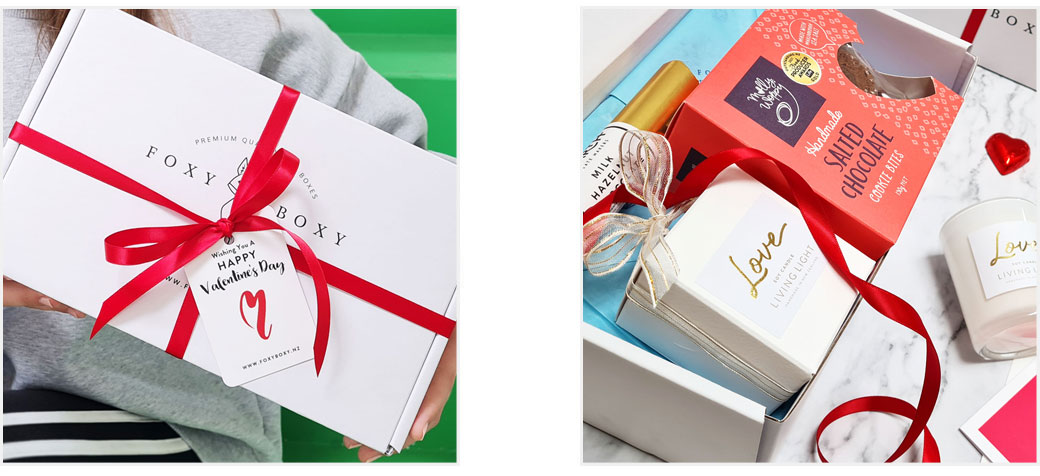 3. Pamper Her

Luxury hand and body lotion from Living Light, a gorgeous peony candle to set the mood, a bath bomb to relax with and peppermint foot cream to deliver the ultimate day spa experience at home. What's not to love? Pamper Her is a beautiful modern gift box full of luxury goodies she will adore. If you love this gift but really want to impress, we highly recommend our Luxury Pamper gift box for the extra "wow" factor.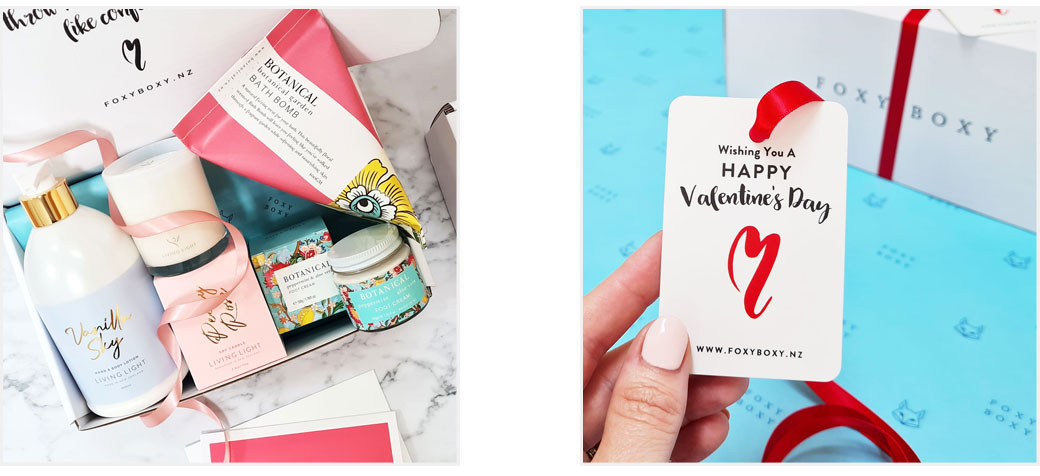 Our Top 3 Gift Ideas For The Guys
1. Whisky & Treats

Whisky & Treats is a real treat, with 100% New Zealand made deliciousness. Two varieties of New Zealand Whisky from Thomson Whisky and complemented with a perfect selection of New Zealand made snacks. He will LOVE this!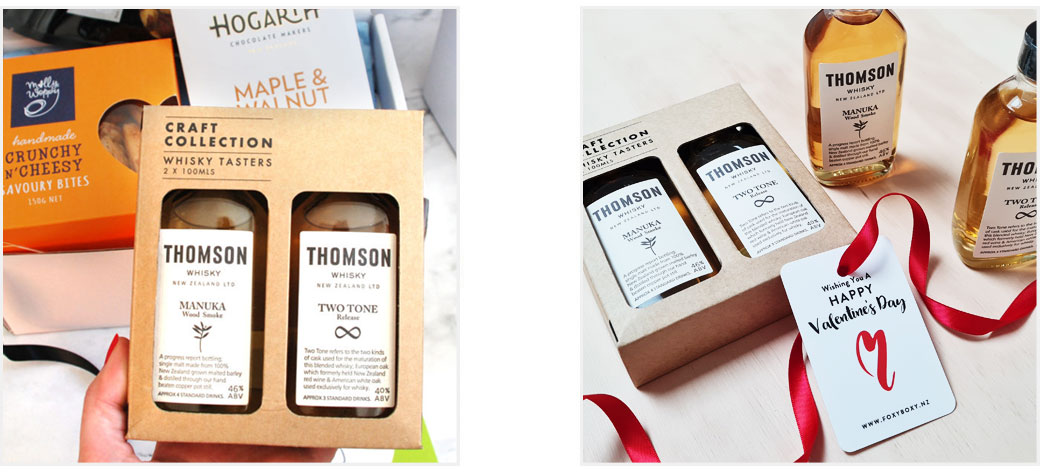 2. Coffee to Go

Coffee to Go gift box is the perfect Valentine's Day gift for a busy person with a caffeine habit. Exceptional fresh, quality coffee that is going to wow, the most delicious fudge and craft chocolate, and finally the KeepCup, ideal for people who appreciate great design.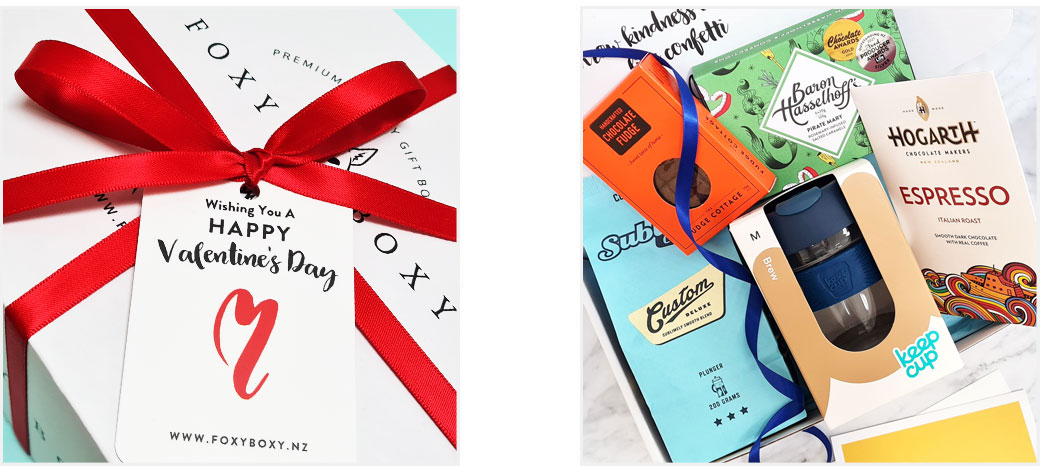 3. You're So Sweet

The perfect gift for a foodie with a bit of a sweet tooth. And you know what they say, "the way to a man's heart is through his stomach" so this might just be the ideal gift this Valentine's Day. Stylishly presented in our FOXY BOXY custom gift box, this will impress. Sit back with a great movie and enjoy ALL the treats.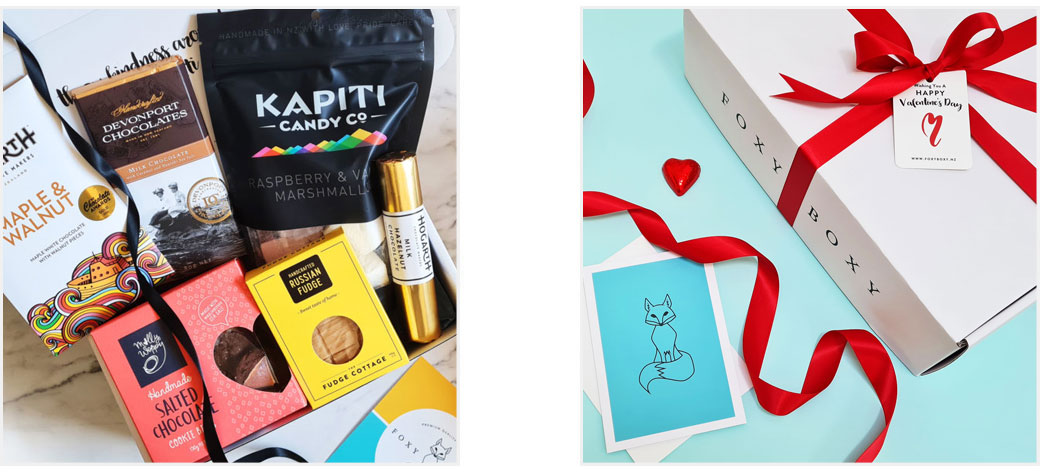 Our special FOXY BOXY Valentine's Day swing tag and red ribbon option is available on all our gift boxes in time for celebrating Valentine's Day 💕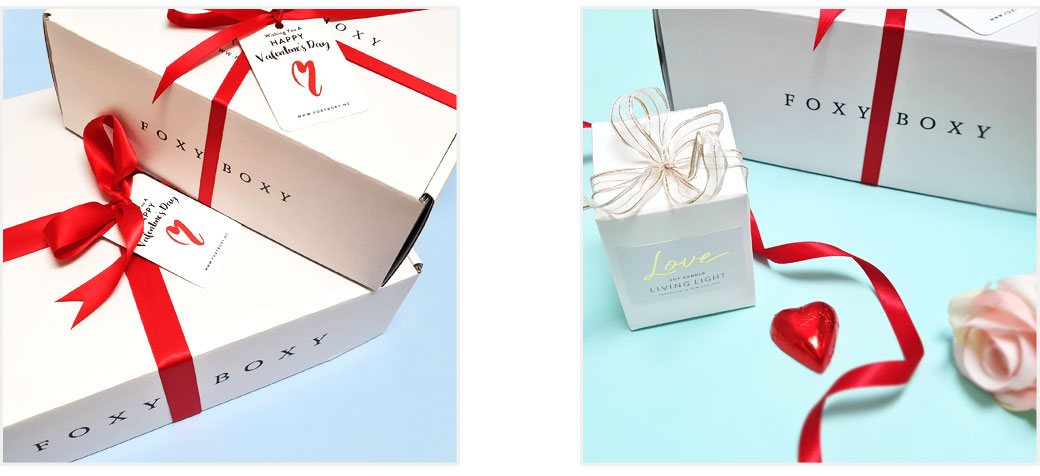 Whichever gift box you choose from our popular range, we know your loved one will absolutely adore discovering all the amazing goodies inside our FOXY BOXY gift boxes.
Happy Valentine's Day to all you lovely people in New Zealand!