MOTHER'S DAY GIFT IDEAS
Mother's Day is all about spoiling your mum and making her feel appreciated. Spending time with your mum is probably the most important and appreciated thing you can do. Your mum will love a nice family lunch or dinner, ideally without her having to make it or clean up (if you're planning on heading to a restaurant, make sure you book ahead as Mother's Day is notoriously busy). Another favourite way to celebrate is to give your mum breakfast in bed on Mother's Day.
But what should you buy your lovely mum for Mother's Day? Forget buying one present, our gift boxes offer a exciting gift experience as she discovers all the goodies packed inside our stylish FOXY BOXY gift box. Award-winning craft chocolate, heavenly scented soy candles, French champagne, luxury hand cream and artisan fudge are just a few of our products certain to make a lasting impression.
We have selected our top 5 gift boxes to delight the most discerning of mothers this Mother's Day.
1. Yes You!
Our best selling Mother's Day gift this year is of course the Yes You! gift box. It really is the ultimate in thoughtful giving for your lovely mum. The Limited Edition Peony Blush soy candle (we seriously love these candles and with 60 hours burn time, it lasts too!), a Mini Moët for her to toast the ones she loves, and Botanical Floral Milk Bath so she can soak away in a luxurious bath enriched with coconut milk powder which will leave her skin feeling soft and lift away any stress.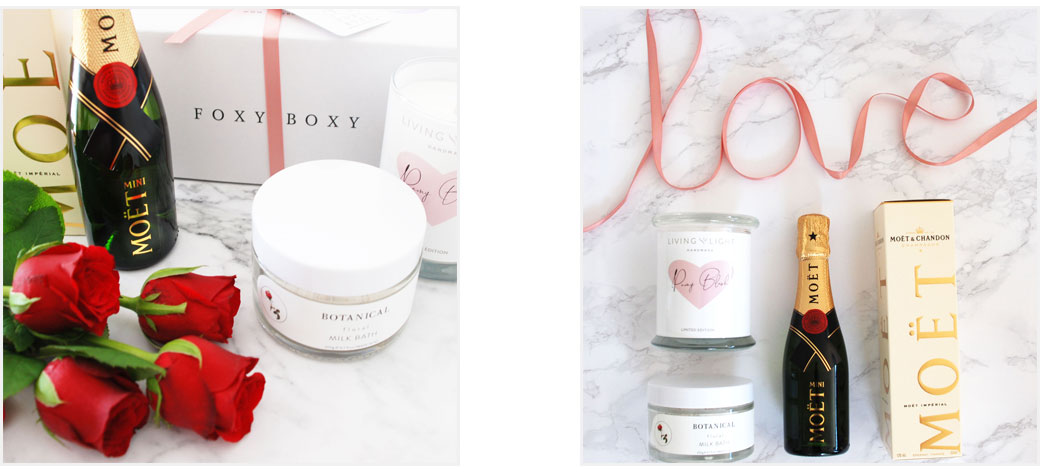 2. Whole Lot of Love
If a Whole Lot of Love is what you feel for your Mum, take a look at this heavenly gift box of gorgeousness. Packed with a gorgeous array of premium products from our Nelson / Tasman region, if she likes hand-made artisan goods, she'll be absolutely delighted with all these goodies made with love. This is the perfect Mother's Day gift hamper for Mum's of all tastes and ages.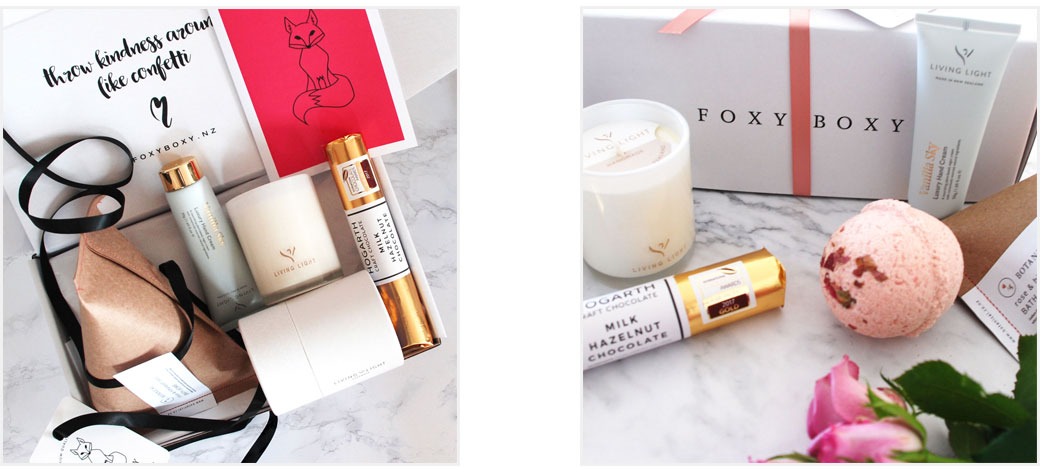 3. The Foxy Hamper
This gift box is the perfect way to say "love you Mum" in a big way. French champagne, craft chocolate, a gorgeous soy candle set and mouth-watering fudge and organic cookies. What's not to love? The Foxy Hamper is stylish gift box lovingly filled with a fantastic assortment of exquisite products.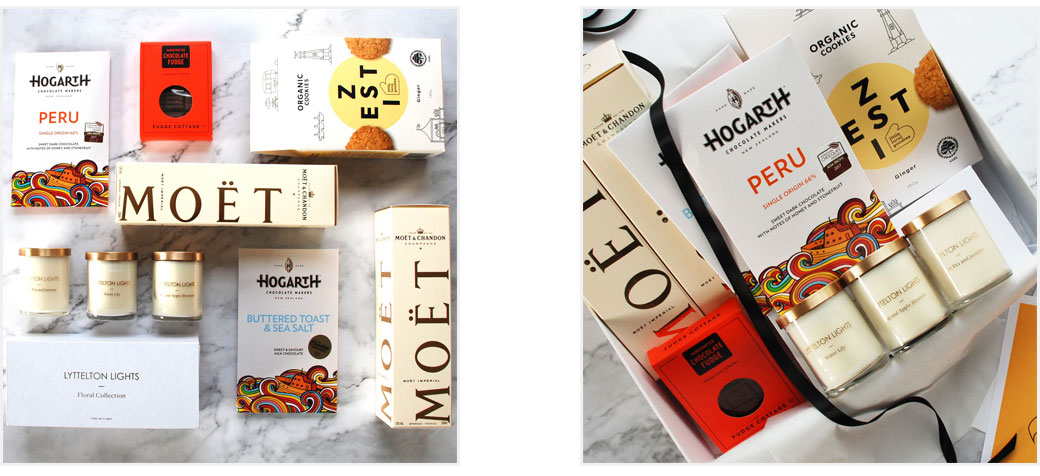 4. Pretty Gold
This is total luxury of the highest order. Delight the senses with this gorgeous box of golden goods. The Pretty Gold gift box will definitely make your mum very happy this Mother's Day!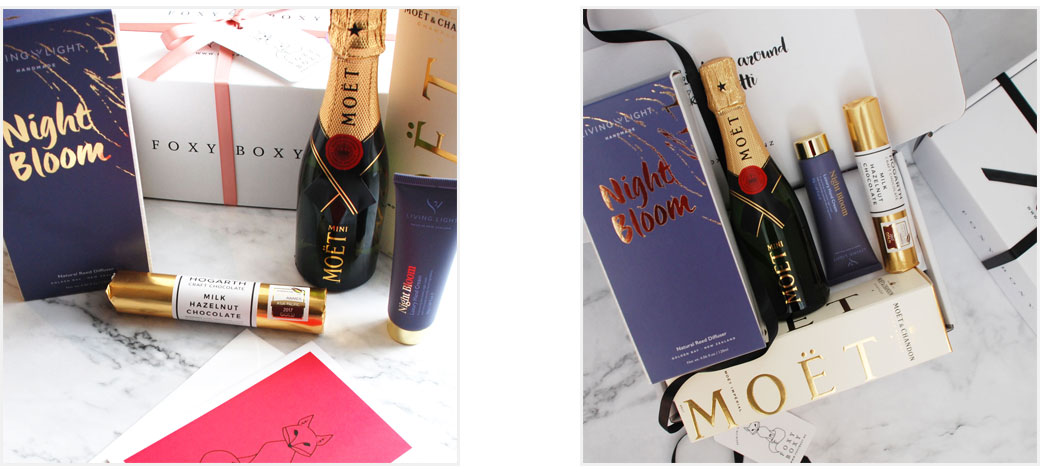 5. Sparkling Celebration
Does your Mum a love French champagne? Then you would be in her good books forever with our Sparkling Celebration. Award-winning chocolate from Hogarth Chocolate Makers, artisan fudge from The Fudge Cottage, and finished off with two of the cutest bottles of Mini Moët. A little gift of luxury for your precious Mum.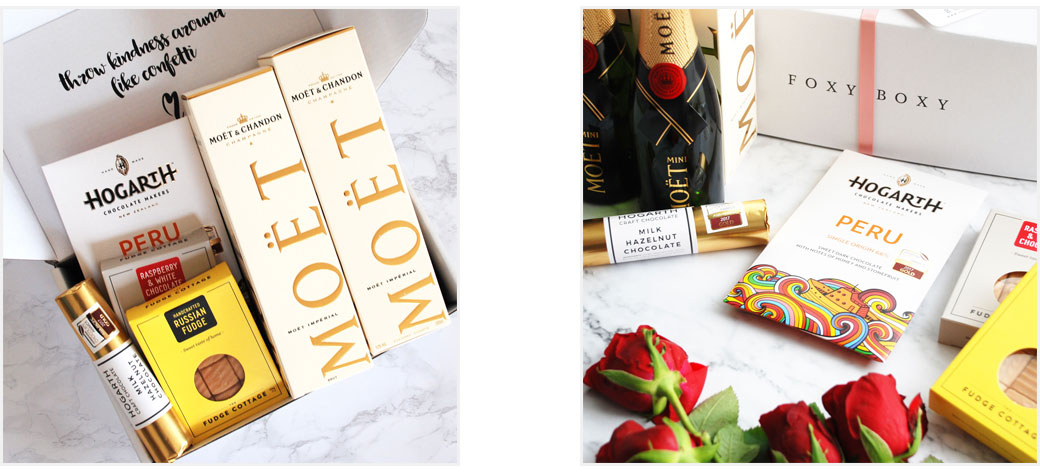 Select a stylish FOXY BOXY gift box online that best suits your special mum and then relax. Our team will package it up to ensure your Mother's Day gift is beautifully presented, including your message of love to your mum on a hand written card and deliver the luxe box of goodies free to mum's door anywhere in New Zealand.
Whichever gift box you choose from our popular range, we know your mum will absolutely adore all the quality goodies.
Happy Mother's Day to all the gorgeous mums of New Zealand!